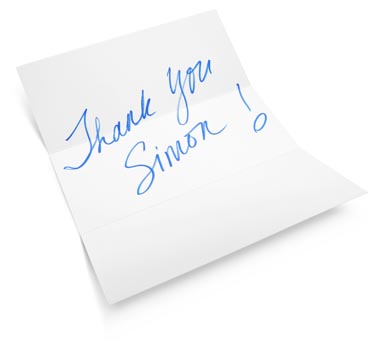 TESTIMONIALS
Simon prides himself in providing the highest level of client service and I pride myself in having chosen him as my guide, coach, confidant and right hand support in the recent sale of my home. From organizing one of the most successful open houses I have ever seen to the closing of escrow, Simon was there at my side preventing the transaction from getting off course resulting in a very quick and smooth sale. I was extremely pleased and comforted with his intelligent, honest and trustworthy handling of the transaction on my behalf, a unique and rare occurrence in the real estate world. I am very ready to tackle another deal with Simon's support. Bernard B.
Simon is incredibly professional, hard-working and personable. We've had him help us with two home purchases and a sale and we have had nothing but smooth, successful experiences from all of them. He has helped us assess market value, formulate winning offers and present our property in a manner favorable to buyers. We will go back to Simon for our future needs…although he helped us buy such an amazing property, we may never leave. Simon is simply the best! K.K.
Having dealt with a number of real estate agents, three things stick out in my mind that make you far and away the best agent I have ever met: your responsiveness, your resources, and your integrity. The combination of these three elements is fabulous. Throughout the process, you were always quick to answer any questions or concerns I had, and without fail, you let me know what was happening at every juncture in the process. While this seems like basic blocking and tackling, I have found it to be very rare. For someone who likes feedback and knowing what's going on, your efforts were very much appreciated. The most impressive part of the package is your integrity. Real estate agents don't have a reputation for putting their clients ' interests first, but you are an exception to that rule. You never pressured me to accept a low offer, even though it would mean less work for you. You gave me honest opinions, you called it like you saw it. For me, that means everything. I can't thank you enough for everything you did for me and continue to do, even post close. I would be honored to recommend you to anyone I know. You are truly a credit to your profession. Thank you, Josh W.
Simon provided truly professional, first-class service. My family has been in the real estate business for more than three decades — so I've come across my fair share of Realtors. I can attest that Simon is the "real deal". From listing to finalizing the deal, Simon was always available, ready to offer sound counsel, and kept me constantly abreast of the status and activity on my property. I couldn't have asked for more. I would highly recommend Simon and his team to anyone looking for the best. You will be well served. Sean B.
Just wanted to reiterate vociferously how appreciative we are for the skill and care and all around bad-ass-edness you have brought to working with us. From maneuvering and positioning our offer so deftly with our new home to the just flat out wizardry you pulled with saving our sale after the appraisal, I'm just wanted to tell you how glad I am to have you on my team. It's cool to be around someone so good at their job. Sean and Leslie L.
We have been in and out of the market enough to enlist the services of a good number of real estate agents. Simon, by far, has been the most pleasurable to work with. He is the most knowledgeable, responsive, and fun agent we have ever known. He was never reluctant to give us straight and honest opinions on any aspect of the buying and selling process. His enthusiasm is infectious, and his professionalism ensured that we were in good hands. We especially appreciated the fact that we were always in direct contact with Simon, never had to deal with assistants, and every phone call was returned promptly. Real estate transactions can be very stressful, and working with Simon made things rather smooth and delightful. Jenny and Le T.
Simon, seeing you at yesterday's realtors open house served as a long overdue reminder that I needed to thank you for all of your help. I so appreciate all of your time and effort…you are truly an exceptional realtor. I think your patience, your honesty and your integrity are second to none. Should I ever find myself in the market again, I will definitely give you a call. Thank you again for everything. C.K.
Simon Salloom is hands down one of the best people to know, especially as a realtor. I first met Simon on the request of my upstairs neighbor who recommended him. We had met with a few very nice people as we were casually looking for a new home in Los Angeles but upon meeting Simon and going to a few properties it became apparent that he was the guy who you wanted on your side. He knew everyone in the room and has their number on speed dial. He was able to get info that I never would have guessed possible. He knew histories and what the other people in the equation were thinking and what their strategy was. It was obvious that he was going to be a huge asset going in to a home buying or selling situation. On multiple occasions, whenever I had no idea what to do or how to move forward, Simon would just explain something to me that made it so obvious what the right course of action was. Whether you are new to home buying or a veteran, Simon can do things in this business that takes years to perfect. We have been in 4 or 5 contract situations with him, both times in multiple offer situations, and on the selling side we got significantly over our asking price. If you are sitting there reading this and wondering who the absolute best realtor in town is, it's Simon. I would also like to add that everything he does is for the client. He coordinated the construction, cleaning, inspectors, and stagers in perfect orchestra. He gives you money saving advice and has your best interest at mind. I will be buying and selling all of my homes through him and have referred many of my friends to do the same and they are always glad I did. I liked him so much that I wrote this review and even gave consent to use my name and be a reference for him. Call me, I'll tell you the same thing. Michael Holland